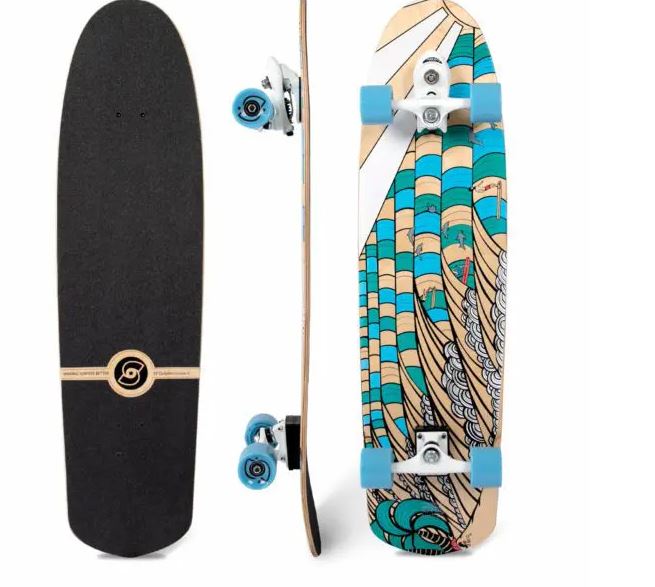 Smoothstar 37" Dolphin Cruiser THD
Regular price
$375.00
/
Tax included.
Shipping
calculated at checkout.
---
In stock, ready to ship

Inventory on the way
Super cool, super Smooth Dolphin Cruiser
Is this SmoothStar right for me?
Do you love to cruise? If so, welcome back to the traditional form of skateboarding with the 37″ Dolphin model. Making long, drawn out carving turns is where the new 37″ longboard cruiser excels. It has a wide, slightly concave deck which tapers down to a medium rear kicker. This gives you improved control when carving or gliding across steep slopes, and the 50mm wide rubber wheels provide the board with extra stability and superior grip.
TECH SPECS
37″ Point Break Longboard deck
SmoothStar Thruster 
 Commonly Asked questions

If I ride a longboard, is the Dolphin Cruiser more suited to my surf surf style?

The Dolphin Cruiser board is a lot bigger than all the other model SmoothStars and the wheelbase is a lot larger. This means that the turning circle or arc, will be a lot less critical which will feel more like a longboard turn. However, the board will not be as responsive to body movement which is more important for surfing. But if you want a delayed feel to your SmoothStar, the Dolphin Cruiser is a good option. Please remember that when you are riding, it is always important that your surf stance stays the same and you do not widen it for a longer board like the Dolphin Cruiser. The Dolphin Cruiser is also very fast and it does cross over to the cruising element where there is a nice mix of carving from rail to rail, to riding with surf turns. It is especially good for travelling long distances as it is one of the fastest boards due to the longer wheelbase.
Does a larger wheel base make the board faster?

Yes, a larger wheel base makes the board go faster.
Can I perform critical turns on the Dolphin Cruiser?

Yes, you can perform critical turns on the Dolphin Cruiser however they are nowhere near what they are on the smaller SmoothStar models.
Shipping is FREE on all orders over $100 in one transaction store-wide to anywhere in Australia.