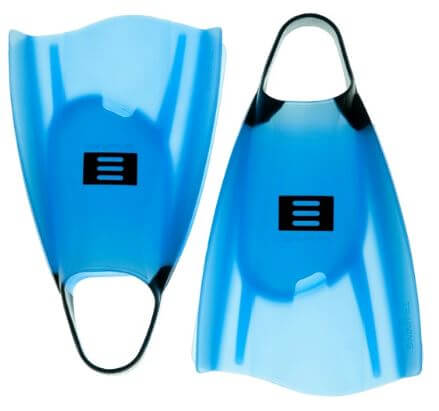 The DMC Swim Fins have been specifically designed to be moulded in silicone to avoid blistering as rubber is prone to. 
The principal function of the DMC Swim Fins is to enable anyone from a novice to an Olympic standard swimmer to achieve an exact kick balance while using their preferred arm stroke. As well as strengthening and toning the muscles, using the 
fins during swim training gives the legs neuro-musclular memory so that when the swimmer then swims without fins, they kick more effectively. The benefits of using this material far outweigh the extra cost; the silicone does not cause blisters as rubber is prone to, and the translucent and metallic colours are an attractive marketing advantage. In addition to this, silicone is denser than water which helps keep the feet below the surface - essential when kicking correctly. The actual blend and hardness of the silicone used has been the result of extensive collaboration with the manufacturer, the material is soft, yet resistant to tearing and splitting, and is UV proof.